The Karolinska Global Master's Scholarships In Sweden 2022 – The Karolinska Institute offers a handful of tuition fee scholarships to excellent students who got admitted to one of the Global Master's Programs starching every autumn semester. The amount of scholarship varies yearly, but there is a maximum of ten scholarship awarded per year, Spread to all the Global Masters Programs. The competition for this Scholarship program is fierce with approximately 1500 international student applying for the scholarship annually.
Eligibility for the Karolinska Global Masters Scholarship
To be eligible for the application of the Karolinska Global Masters Scholarship, you:
You must have applied to one of Karolinska Institute's Global masters program starting in 2022.
You must be a tuition fee paying student (From outside the EU/EEA)
You Must have paid the application fee by February 2022.
You must have fulfilled the entry and documentation requirements for the programs you have applied for
Note: Only first year students are eligible to apply.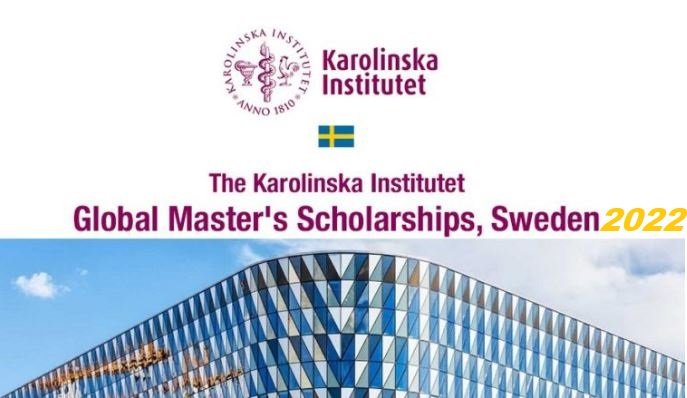 Also Read……… Mexico Scholarships Without IELTS 2022
Admission to the Karolinska Global Masters Programs
Below I have added a link which contains instructions on how to apply for the Global Masters Programs at Karolinska Institute.
Central Online Application Portal
You apply for the Global Masters Program through universityadmission.se, the online application portal for higher education in Sweden.
Read more about prioritizing/ranking your selections at universityadmissions.se. You can apply for up to four programs and if you get admitted, your lower ranked programs will be deleted.
Note: Do not send any document to university of Sweden, (universityadmissions.se) before you complete the online application, also note that no documents should be submitted directly to Karolinska Institute.
Follow the instructions on universityadmissions.se on how to apply
Entry Requirement for the Masters Programs
Before applying for the scholarship, you should make sure you check that you have the required academic qualifications and language skills. In order to be eligible, you must meet the general entry requirements, the program specific requirements, and the English language requirements.
General Entry Requirement
The General entry requirements is a bachelors degree equivalent to a Swedish bachelors degree of 180 ECTS from an internationally recognized university. For detailed information on how you can meet the country specific requirements, click here. Applicants that are in their final year of bachelors studies can be conditionally admitted.
Specific Entry Requirements
In order to be eligible, you must first of all meet the specific certain entry requirements for the program you are applying for. You can find more on specific entry requirements here.
English Language Requirements
All Global Masters programs at the Karolinska Institute require proficiency in English equivalent to the Swedish upper secondary school courses English 6/English B. Applicants may meet the English language requirements through a previous university level study, upper secondary school studies or English language proficiency tests. You can find more on the English Language requirements
Also Read……… Scholarships To Study In France
Important dates of Karolinska Institute Global Master's Scholarships
Application for our Global Master's programs opens: 18 October 2021
Application deadline: 17 January 2022
Last date to pay application fee and submit supporting documents: 1 February 2022
Apply for the KI Global programs scholarship at this page: 18 October 2021 – 17 January 2022
Notification of selection for the Global Master's Programs: 7 April 2022
Notification of selection for the scholarship: 29 April 2022